Chen Wei
Western photographers in the early 1980's effectively pioneered the 'wall photograph', the photographic image that could be witnessed at the level of a painting. This tradition grew out of the practices of such artists as Jeff Wall and Sherrie Levine, and became adopted by later artists such as Gregory Crewdson and Candida Hofer. The photographs were to be considered as just that, images on paper, and were to be critiqued at the level of their material and spatial properties, much like a painting.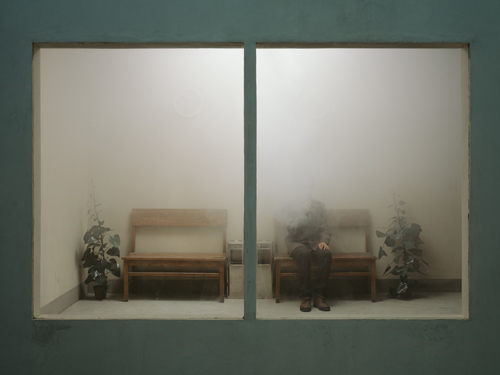 This tradition has now been further adopted by many contemporary eastern artists, the example here being that of Chinese artist Chen Wei.
Chen's images have the feel of theater spaces, often boxed in with a figure enacting some kind of domestic performance inside. He allows very little space for the viewer, pushing objects forward and therefore energising their relative position to the onlooker.
Much like Hofer's work, Chen's images are taken from a fairly logical and formulaic position. Perspective is marked out by lines that correspond symmetrically, effectively dividing space into rigid areas of happening and non-happening.
However, what really defines Chen's images are his play on the fantastical. Pictures like 'A Foggy Afternoon', 2011, (above) demonstrate his fascination with Chinese folk tales, literature and memories of childhood. The absurdity of these events reminds me of Jeff Wall's Dead Troops Talk. Wall's image depicts an absurd, comical and vaguely sinister spectacle involving various mutilated soldiers raised from the dead and conscious of their predicament. As much as the drama and interplay amongst characters  draws in the gaze of the viewer, it is the composition of the space itself that makes the picture so fascinating. Depicted in a crater in what appears to be First World War France, the space is cut off from any extensive sense of depth. Thus, we read the image at its surface, much as we now read pantings, such that characters are revealed as forms on a flat panel. This flattening of space is evocative of the Cezannian project 100 years ago, and therefore injects the photograph with an engaged critique traditionally reserved for painting.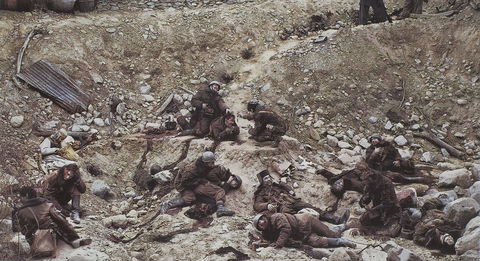 Chen Wei's photographs do not engage with western traditions of pictorial critique in painting to the extent that Wall does, but this is only expected of any emerging artists from areas, like China, removed from such art historical narratives (albeit with their own narratives to engage with).
Of course, to fully understand how Chen's images are uniquely applicable to a Chinese/East Asian context would be to understand the cultures and historical narratives in question. But what can we gather from looking at his images while divorced from any real sense of wider cultural awareness?
Recurring themes tend be dark, dingy spaces, inhabited by either a single figure or nobody at all. A sense of confinement and personification of objects brings the viewer into a partial fantasy world. Chen doesn't give too much away, they are certainly more poetic than dogmatic. But there is certainly a feeling of something having been lost, or an element of transition occuring. Reflections on a changing China? Where is the natural light and open spaces? It's as if these are the spaces where people both live and dream, the dreams emerging and held captive within these tiny boxes. I can only make assumptions, but it is as if Chen is depicting the true face of contemporary China, a nation of dreamers, locked into frustrated spaces of capativity and tradition.